'GIRL' proves Pharrell is back
With only two days on the market Pharrell Williams second solo studio album G I R L has sparked both cover videos and controversy.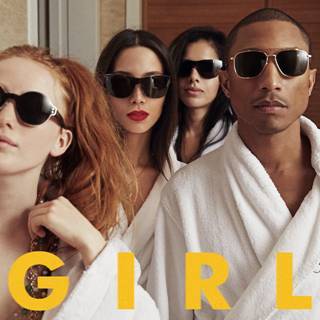 The 11 track album includes a variety of A-list collaborations with artists such as Alicia Keys, Justin Timberlake, Miley Cyrus and Daft Punk proving that the eight  year wait was worth it.
Once again Pharrell provides that perfect mixture of R&B vocals and lyricism reminiscent of the 90's and shows that he hasn't forgotten his days working alongside Blackstreet. Combining his soft falsetto with upbeat bounce and funk influenced instrumentals, his album reflects a blend of the past two decades in popular music.
With celebrity cameos and four or eight part breaks within each track, the album plays and feels like an 11 track night out, while also providing a few ballads for the after party.
While the album itself has gotten splendid reviews, it seems its cover has taken away from the shine as some fans where upset by the lack of an "African-American" woman on the cover.
Taking no time to address the issue, Pharrell spoke with  TheYBF.com, revealing that there was in fact an African-American woman on the cover,"They're ill informed. The woman I'm standing closest to, she is black and she's been a friend of mine for a long time. You know, I'm confused by it," admitted Pharrell .
"Then they're going to ask me 'do I not have an Indian woman on there or a Pakistani woman on there?' But meanwhile, I do. She is African-American and I feel sorry for her that people will look her dead in her face like 'she ain't black,' but she is black. It's a girl I use to date years ago." remarked the Oscar nominated musician who went on to say, "Is this what it is? Is it because she's not brown? I don't feel funny about our President because he is what he is."
Even with mixed reviews about the cover the project itself was a success on behalf of Pharrell  whose choice to sample of African Chorale music during the track "Lost Queen", may be a sweet reminder of who truly wears the crown.